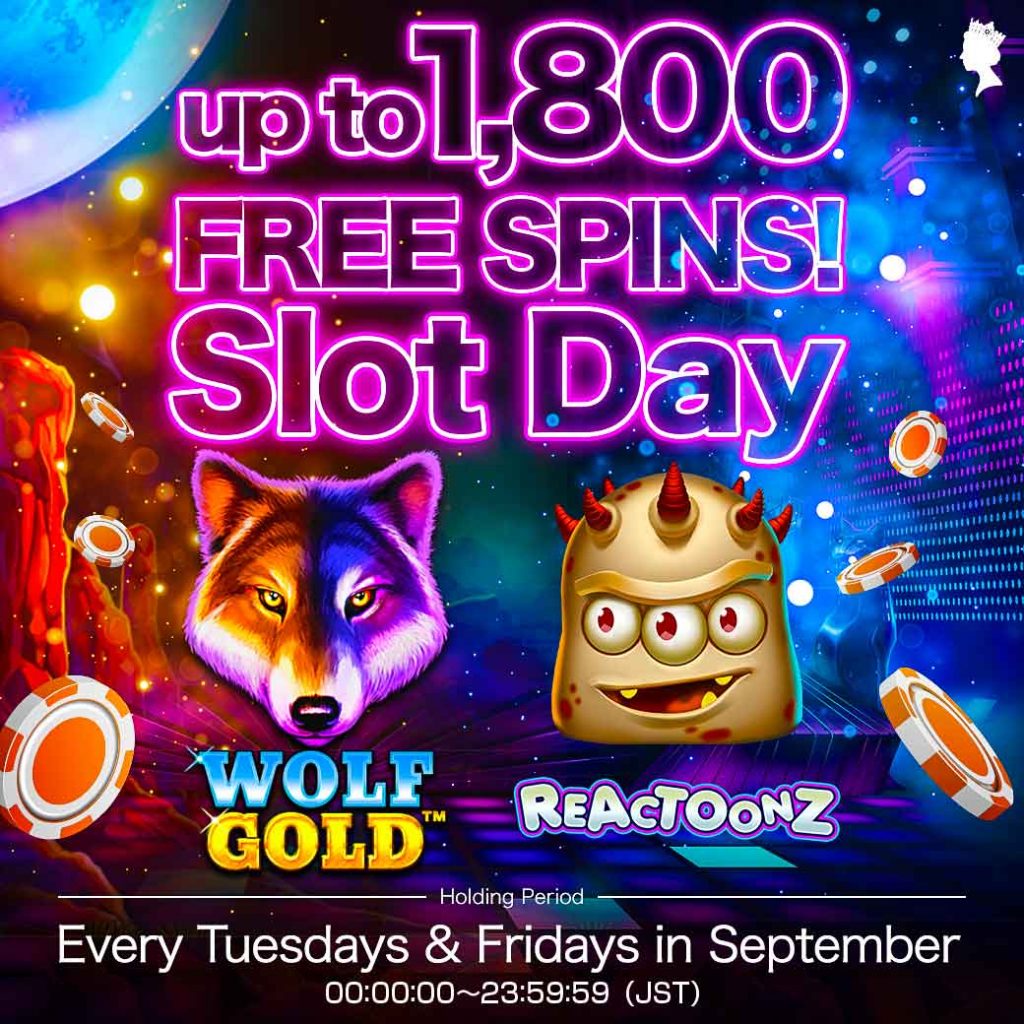 On Tuesdays and Fridays this month, for every $50 you deposit,
You will receive 10 free spins (up to 200 spins per day) on your choice of "Wolf Gold" or "Reactoonz" slot machines🎁.
※The number of free spins will be calculated based on the amount of each deposit.
For example;
If you deposit $150 at one time, you will be awarded 30 times.
If you make a first deposit of $70 and a second deposit of $80, you will be awarded 20 times.
Please join us on all dates and get up to 1,800 free spins!
Start date
Every Tuesdays and Fridays of September, 2022
00:00:00〜23:59:59(JST)
Prize
Free spins on "Wolf Gold" or "Reactoonz"
※The maximum number of spins you can receive per day is 200.
How to join
After making a deposit, please use the word "Slot Day" and select the model name of your choice in the chat room.
We will give you a prize for each deposit. Please apply each time, not all at once.
Presentation Day
The application will be processed on the day following the date of application.
Terms and Conditions
1. Free spins can be played on specific games or games within a category. When you have earned free spins, you will see that you have earned free spins when you log in to a given game.
2. The bet amount per free spin is USD 0.2 and cannot be changed.
3. Free spins will be lost within 48 hours after they are given out. Please make sure to use your free spins within 48 hours.
4. Bonus campaign can be used in conjunction with all other bonus campaigns.
5. Withdrawal conditions for winnings earned on free spins are 40x and the maximum withdrawal amount is USD 1,500. No withdrawals can be made until the withdrawal conditions have been met.
6. Normal Terms and Conditions and Campaign General Terms and Conditions apply.
7. By receiving the bonus money, all QUEEN CASINO customers are deemed to have accepted and agreed to the general terms and conditions of this campaign, as well as the terms and conditions of each campaign.
8. In all circumstances, QUEEN CASINO reserves the right to forfeit winnings and freeze accounts if any violations of the campaign's General Terms and Conditions are discovered, whether such violations are intentional or negligent.
9. QUEEN CASINO reserves the right to terminate or revise the campaign at any time without prior notice.
10. This campaign is only applicable to customers with a Japan account (currency setting is USD).