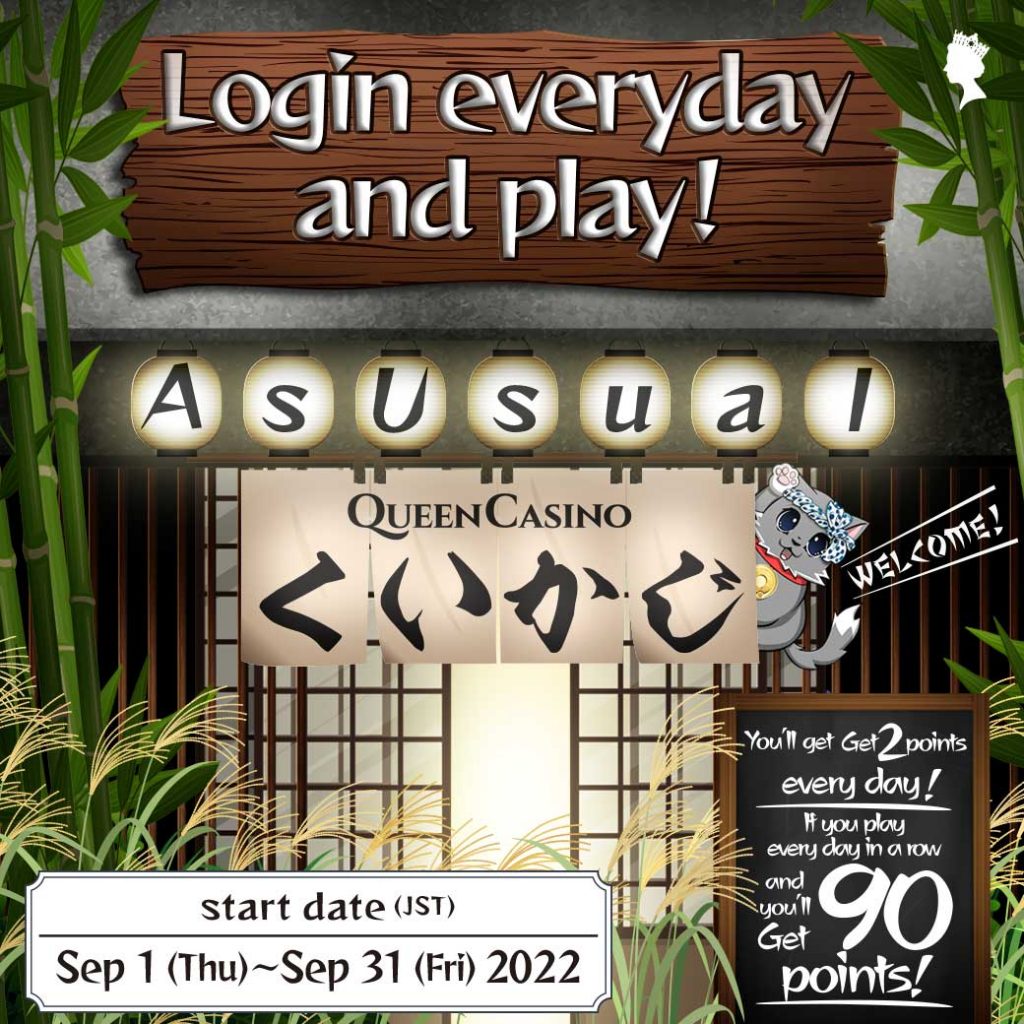 During the campaign period, you can earn 2 Q-PON points every day just by logging in and betting USD 50 or more!
And if you play for more than 5 days in a row, you will get additional Q-PON points!
*To earn Q-PON points, visit the Q-PON page.
Log in and play games every day to win the prizes you've been longing for☆.
How to join
If you wish to join, please tell us in the chat room that you will be joining the [usual campaign].
*Applications are valid only once and will be counted for all login and play achievements during the period.
Applicable Date
Thursday, August 1, 2022 00:00:00 – Friday, August 31, 2022 23:59:59 (JST)
Prize
5 days achievement:5pt
10 days achievement:10pt
20 days achievement:20pt
30 days achievement:30pt
If the consecutive record is broken, it will be restarted from Day 1.
Presentation Day
The prize will be awarded sequentially by Wednesday, October 5, 15:00:00 (JST).
Q-PON Terms and Conditions
1. QUEEN CASINO reserves the right to change or terminate the Q-PON point redemption program at any time and without notice.
2. If QUEEN CASINO identifies any activity that violates Q-PON's Terms and Conditions or any fraudulent activity in Q-PON's point redemption program, QUEEN CASINO reserves the right to suspend the account and any associated accounts (such as freferrals).
3. To earn Q-PON points, you must be registered on the Q-PON page. If you have not registered, please log in to the Q-PON page first.
4. By logging in to the Q-PON page, you will automatically participate in the point redemption program.
5. To earn points on our website, you must log in to your account.
6. Points can be earned by doing quests at Q-PON.
7. You can check from [Points History] on the Q-PON page.
8. The number of points earned from quests can be checked in the list on the website.
9. Points can be used only at Q-PON Store.
10. Points cannot be transferred to others.
11. The number of points is recorded and displayed in real time.
12. If you rank up, it will appear immediately.
13. To advance from Rank 1 in the Rewards Program, you must make a deposit. Customers who have not made a deposit will have their rank progression held until they make a deposit for all ranks.
14. Some offers in the store are only valid for players who have reached a certain program rank.
15. QUEEN CASINO reserves the right to void or suspend the point redemption program in the event of fraud or irregularities.
16. If no deposit is made on the user's account within the past 90 days, any points the user has will be forfeited.
17. If a user does not make a deposit for more than 90 days and continues to use the Rewards Program, we reserve the right to forfeit any balance or winnings from the user's account and close that account.
Terms and Conditions
1. Normal Terms and Conditions and the Campaign General Terms and Conditions apply.
2. QUEEN CASINO reserves the right to terminate or revise the campaign at any time without prior notice.
3. This campaign is only applicable to customers with a Japan account (currency setting is USD).