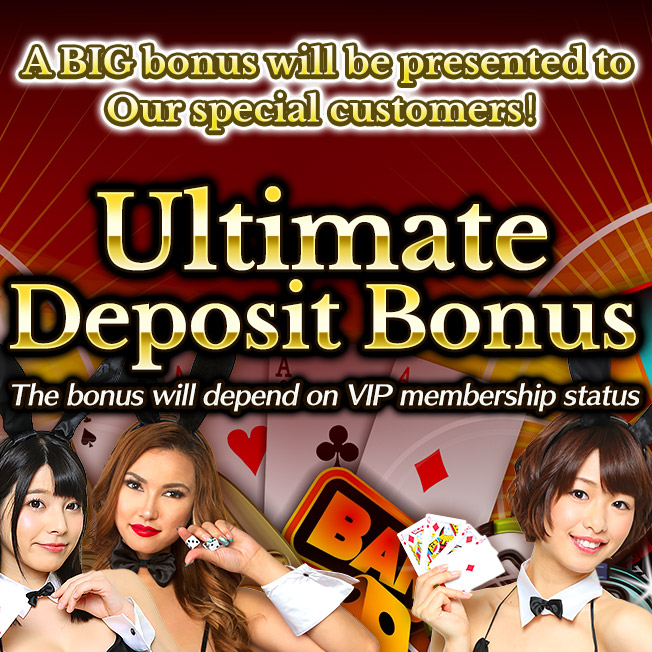 A special bonus of 3,000 USD maximum will be presented to special VIP members who deposited an extraordinary payment!
Terms and Conditions:
This campaign is subject to the following payment, where the deposit amount of1 day (Japan time: 00: 00: 00 to 23: 59: 59) and exceeds 1,000 USD or more.
※Payment whose date has changed will not be covered.
※ In case of bank transfer, it will be subject for approval only for those deposit confirmation taken.
The amount offered bonus will depend on your membership status:
VIP Bronze member deposit amount received 50% is up to 1,000 USD.
VIP Silver member deposit amount received 100% is up to 1,500 USD.
VIP Gold member deposit amount received 150% is up to 2,000 USD.
VIP Platinum member deposit amount received 250% is up to 2,500 USD.
VIP Diamond member deposit amount received 350% is up to 3,000 USD.
To receive a bonus, please indicate in the subject line "VIP special deposit bonus request" at support chat when payment for the bonus subject is completed and reflected in the account.
※ The application will be eligible only during the specified day and time. Payment that the date has changed is excluded.
※ Bonus request application after withdrawal request application are not eligible.
※ chat to [email protected]
All payment methods are limited to VIP players and is subject for approval upon completed of payment confirmation.
This bonus can only be applied once a day.
This bonus can only be used with reload bonus and rebate bonus. Cannot be combined with other bonuses.
To withdraw the bonus you need to play 40 times the bonus amount.
This campaign reserves the right to terminate or revise without advance notice.
Normal Terms of Service and Campaign General Terms of Service apply.